As your local water utility provider, we strive to keep you continually updated on all matters related to your water service. If you do not find the information you need, please contact our office and we will gladly assist you!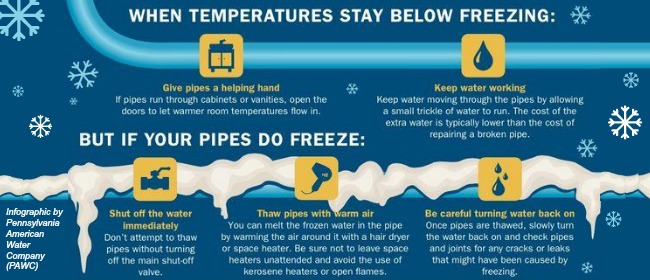 With freezing temperatures hitting our area before winter even officially begins, here are some tips to help prevent frozen pipes and some tips if they do happen to break.
When temperatures...
The holiday season is upon us! Here is a list of our upcoming holiday closings:
Thanksgiving - November 26 & 27, 2020
Christmas - December 24 & 25, 2020
New Year's Day - January 1,...
Our office has reopened for walk-in business but we are following social distancing guidelines. Only 2 customers will be allowed in the office at a time. If you don't need a receipt, please...
The health and safety of our customers and employees is a top priority of the Sequoyah County Rural Water District #4 board and management. Below are a list of resources where you can find...
The EPA estimates that toilet flushes account for nearly 30 percent of your average water consumption per day. And that's when it's working correctly. Older, inefficient toilets that use as...
Summers in Oklahoma can be brutally hot! And one of the best ways to find relief from the heat is to get in the swimming pool! But how much water does that pool hold? Filling a swimming...
Our district forms are available for you to download. Forms include Recurring ACH Debit Authorization, forms for new service / membership, transfer of membership, and other related forms. Please...
We are excited to announce that our new website has launched and includes all the information our community needs related to their water service. Check back often, as we will be adding information...